The Tri-Cities Diaper Bank partners with the following local service agencies to provide diapers to children in need in our community:
Benton-Franklin Parent-Child Assistance Program (P-CAP) 
Benton-Franklin Health District
Union Gospel Mission
Catholic Family & Child Services 
YOU-MEDICAL (formerly Tri-City Pregnancy Network)

Tri-Tech Teen Parents Class
Benton-Franklin Community Action Committee (CAC) 
Early Headstart (EHS) 
Child Protective Services (CPS)
New Horizons High School - Teen Parents
Children's Developmental Center
DSHS Community Service Office
American Red Cross
Pasco Adventist Community Services
Richland Adventist Community Services
Kennewick Adventist Community Services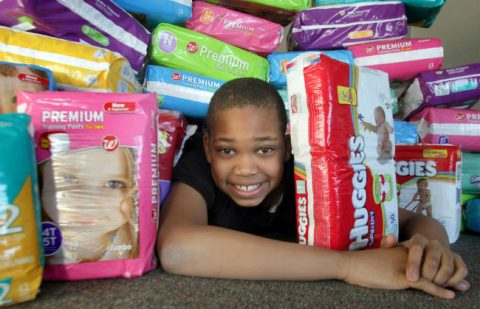 10 year-old, Marsean Ologbosele was so touched by the tragic stories of babies living in poverty that he collected approximately 800 diapers during the diaper drive at Tri-City Junior Academy. "I wouldn't want  to use the same diaper over and over," he said. "I thought that was really sad." 
Photo Courtesy of Tri-City Herald Photo Editor, Bob Brawdy.